Rannko for Salons & Spas
Build a 5 Star Reputation

Turn Key Salon & Spa Software
The New Standard in Reputation Management for
Salons & Spas
---
Did you know? Monitoring & collecting reviews is the first step in building a strong online presence. So how about we get you back in the drivers seat where the rubber meets the road to start interacting & engaging with your customers. 
Give them a reason not to pass up booking an appointment with your salon and spa from the get-go. Rannko is here to allow you to dominate the reputation digital space so you can book more appointments and deliver the relaxation and style guidance your clients are looking for with ease.

Encourage Your Clients to Share Their Joy. Salons and spas strive to offer flawless hair treatments and relaxing stress-free massages. Why not have these happy, relaxed clients help put you on the digital roadmap? Most customers looking for your services are seeking out the insights of others online to be sure they're putting their trust and money in good hands. Rannko Review Management can help you get the most out of your customers, having them help build your brand from the outside in.
Salon Owners Top Rated Reputation Software
Leverage the Power of
Your Reputation
Rannko can help you monitor and generate a stellar 5 ⭐️⭐️⭐️⭐️⭐️ reputation across our many integrated partners for your brand.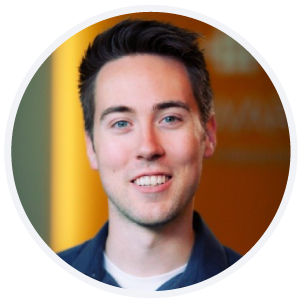 "We LOVE this software because it's so easy to use and they're always adding new features and making it better. It does everything our clients need. Plus it's extremely affordable."
Dennis D - Digital Marketing Manager
Multi-unit & franchise Salons & Spas
Rannko HQ Dashboard
Rannko HQ offers a full HQ platform that will give you the 30,000-foot view of your locations reputation and overall online presence. Manage both coporate and franchisees. Start holding marketing managers and franchisees accountable through compliance of the messaging YOU approve. Act on accurate data and engage with your customers by location. Easily see how you locations are performing against one another and what information is being shared and what information is in sync.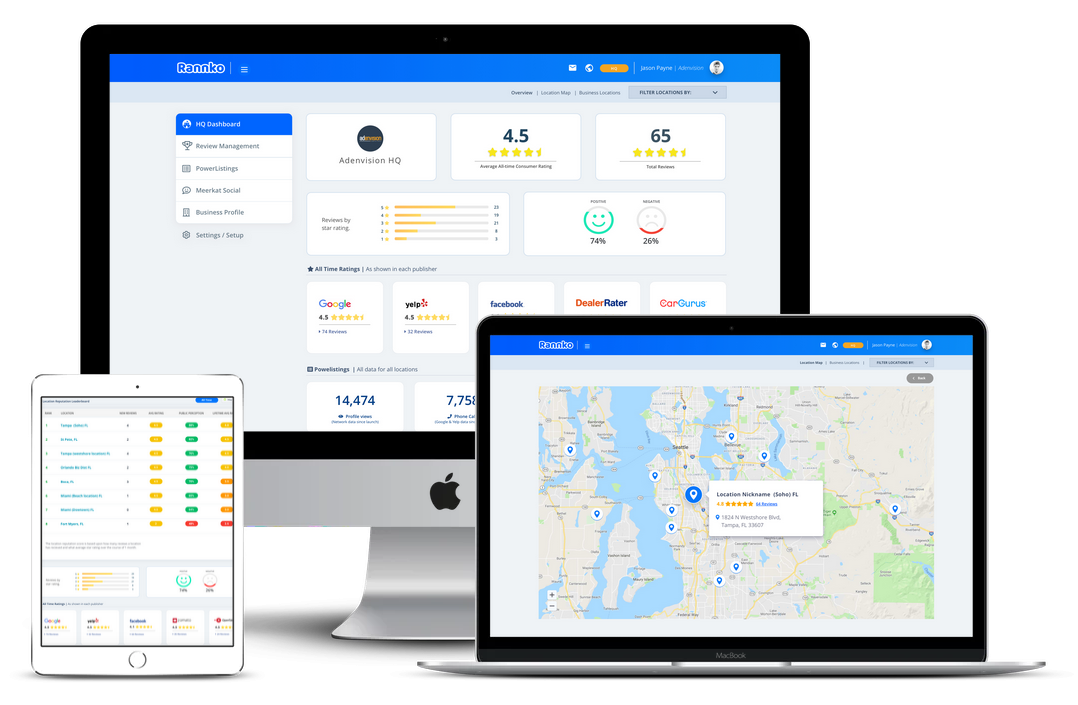 Salon & Spa Digital Marketing Statistics
90 percent of guests research a Salon online before visitng.
80 percent of consumers read salon reviews.
5-9 percent increase in revenue per one star improvement.
77 percent prefer peer reviews versus critic reviews.
52 percent of all worldwide online traffic was generated through mobile phones, up from 50 percent in the previous year.
50 percent would never visit a salon with less than four stars.
Learn more important reputation and industry based statistics here
Encourage Your Clients to Share Their Joy.
Engage with your customers after they leave the chair or comfort of your spa. Salons and spas strive to offer flawless hair treatments and relaxing stress-free massages. Why not have these happy, relaxed clients help put you on the digital roadmap with a review.
Put Your Salon Where Your Customers Are.
Create a style experience with your clients long before they step foot in your salon. Your clients are active and social, so you should be, too. Social media channels like Facebook, Twitter and Instagram offer just the trick, but can be timely to manage when you have scissors and oils in your hands.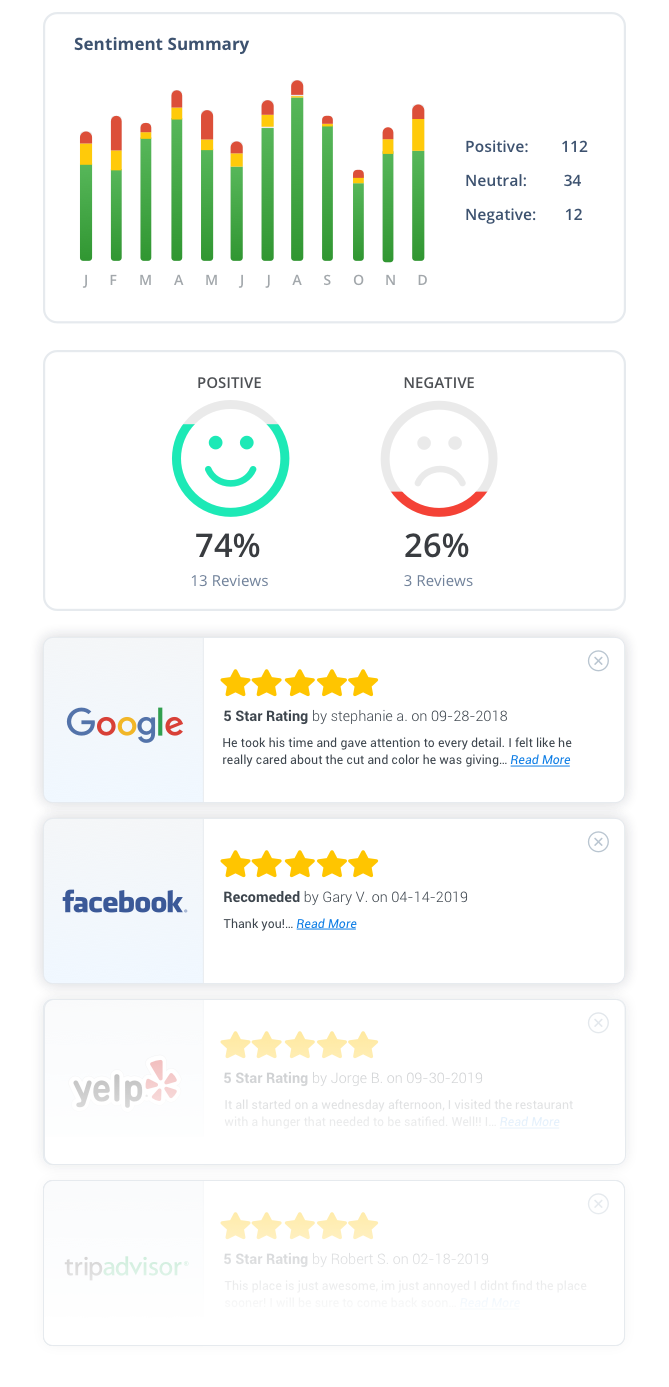 Menus Change. Publish & Sync It!
Consumers are more and more prepared for the activities they engage in, even eating! Today, customers want to see your menu before they hop in the car, and head to your salon. Smart Menus allows you to manage and sync every drink and dish from one platform. These easy updates put your menu in the hands of your patrons quicker.
Salon Core Data in Sync
The information about your salon and spa are extremely important to your clients. More accuracy where your clients are looking for you will increase the likelihood of your chairs and tables being reserved before the day begins. Rannko PowerSync helps you maintain accuracy on over 70+ listings via data integration, giving you more time to keep on cutting and massaging while your listings do the work for you.
As Told By The
Experts
Struggling with your reviews? One of the most common complaints from salon owners is the inaccuracy of bad reviews on Yelp, Google, and other review sites. Here's how to best leverage the good and deal with the bad:
Credit Aveda
Be accessible.
Today's discriminating consumers can and will seek out reviews, whether or not you point them in that direction. Including a live review feed on your website and Facebook page indicates that you are trustworthy and confident in your work.
Be honest.
Though it may feel counter-intuitive, you're better off with a live review feed that includes some negativity than you are with a small collection of old (or worse, non-attributed, non-dated) reviews. Consumers know if you've chosen only the best reviews to make yourself look good. And occasional negative review confirms your authenticity—just make sure to respond to these graciously.
Respond.
If someone posts a review, whether it be positive or not, address the review. Respond publicly and thank them for sharing their experience.
Reviews and Offers.
The same philosophies for your website apply here—include a live review tab and a new fan offer. We have found that new client offers are downloaded 30 to over 100 times a month—that's a lot of new clients.
80% of Clients would leave you a review if only asked. Take control of your reputation
everywhere it matters.
By clicking "SCAN MY LISTINGS" you provide your signature consenting to Rannko contacting you for marketing purposes via phone call to the number you provided. You are not required to give such consent as a condition of making a purchase.