Work Smarter.
How can Rannko help you?
By providing you the tools to 
'increase your reputation'. No one has to tell you twice that your online reputation can make or break your business. Rannko will help
stack the cards in your favor.
Review Management
Make maintaining an online presence and interacting with your customers simple and effective. Consolidate reviews from multiple platforms to one single timeline. Our review management system makes achieving 5 star customer satisfaction as easy as a click of the mouse.
---
PowerListings
Take back control of your online brand across 60+ digital services & citations, synchronize your Funeral Home info, rank higher and be easily found across the web no matter what platform or device your customers use, thus enhancing your SEO and search results.
---
Meerkat Social
Interacting across all of your social networks has never been easier, schedule your posts and see what drove the most interest. Get a higher view of timeline and brand assets all with the push of a button.
---
---
Website Analysis
Rannko inspects your website for those opportunities and reports them straight to you so you can take the steps optimize and own your digital presence..
---
Smart Menus
Show off your products, services and menus, seamlessly integrated with Google, social media, local listings and your website.
---
Auto Reports
Automate your reporting with fully branded PDFs. Daily, weekly, monthly. No problem! Stay relevant on what matters.
---
Task Manager
Ever wondered what to do to improve your marketing? Organize and optimize your "to do" list with our Task Manager.
---
Have ultimate control to build a spotless reputation across multiple networks.
Multi-unit & franchises
HQ Master Dashboard
For multi location businesses and franchises. Have ultimate control from the single location to the location manager. Use Master Dashboard to leverage the power of reviews, Social Media & Powerlistings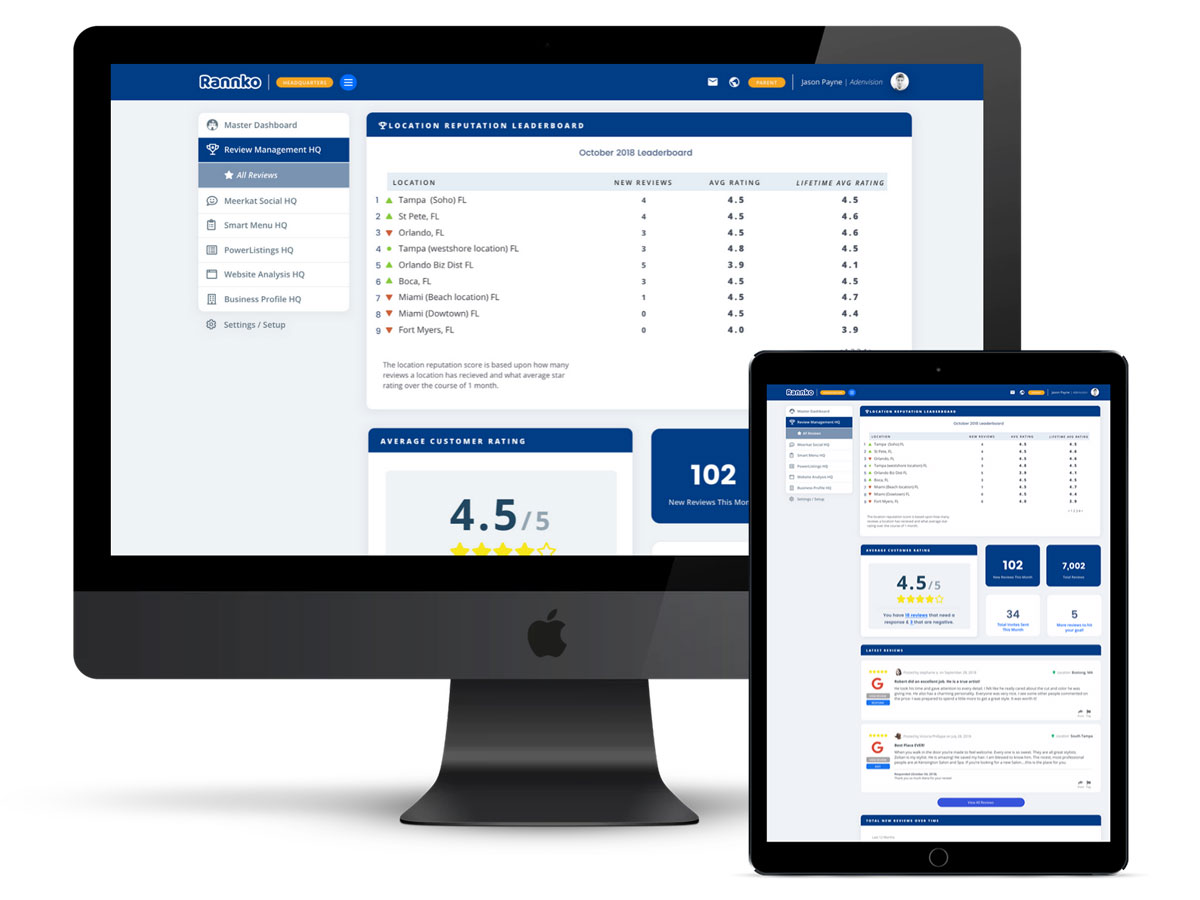 Review Management
See the reviews from all of your locations, served into a single dashboard. Know which locations are under performing and listen to your customers at a high level. Multi location review management PDF reporting available.
Social Media
Post to multiple social platforms for the ultimate control across 100's of facebook pages.  Override the scheduled queue and regain authoritative oversight on social media.
Powerlistings
Are your locations synced across the network? Make sure your verbiage, business data and messaging is 100% accurate. Once you set up multi location Powerlistings, sit back and watch the results pour in.
---
REQUEST A DEMO
Our success team will reach out to connect with you with a personalized meeting link.
Ready to get started?
Discover how Rannko; a sophisticated reputation management platform, transforms the way you do business.
Trusted by businesses, agencies, and marketing professionals.